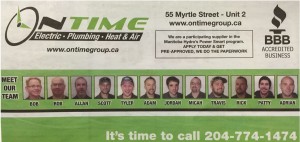 Our selection process isn't easy. We look for Winnipeg's highly qualified, well-respected contractors to serve our residential and commercial customers throughout Winnipeg.
It should come as no surprise that when we receive glowing feedback from customer's who want to share their experience, it only validates our choice of hiring process.
Hi Mike,
I understand that you're the owner of On Time Group and I just wanted to send you a quick note to express our thanks to Bob & Rob for exceeding our expectations once everything was said and done with our new furnace installation. Our new furnace was installed earlier today, but it was our understanding that our old thermostat was going to be replaced as part of the installation.

In short, after calling Bob about this, he and Rob both dropped by to change out our old thermostat this evening. Bob did point out that the contract had not included a thermostat change, but he was good enough to remember our conversation about this (probably our misunderstanding) and worked this through for us.

My wife and I used to be serviced by another company for this type of work and since they changed ownership years ago, their approach changed for the worse. We decided to try On Time Group because we knew Bob a few years ago and trusted him - we're glad we did and will be pleased to refer your company to others as well!

Thanks again,
Henry & Ebonie K.