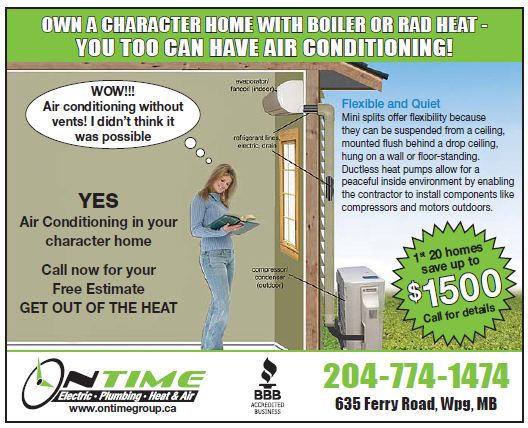 Do you own a character home in Winnipeg and have a boiler heating system? Would you like air conditioning integrated with that central heating system? A ductless split air conditioner provides you with that solution.
The ductless split is both an air conditioner and heat pump best equipped for Manitoba weather between -20 to +20 degrees Celsius. The ducted heat pump system is the primary heat source and integrated with a backup heat source such as your boiler heating system, gas furnace, (not recommended for an electrical furnace), and the backup will override the primary during colder temperatures.
Made up of two units, the exterior unit contains the condenser and a high quality compressor. The interior unit contains the evaporator and is connected to your boiler heating system, or gas furnace, or an electrical furnace. These two units are connected by a pipe that holds power cables, refrigerant tubes, suction tubes, and a condensate drain.
The ductless split is fairly expensive but that is largely due to the integration of the system during the installation. They are very easy to install and are very energy efficient so they will save you money. They are a great alternative to cooling your home during the summer, and heating your home in the winter. The lifespan of this unit is approximately 10-15 years.
They are built to code and available with heating efficiency between 6.7-9.0 (HSPF) heating seasonal performance factor, and cooling efficiency between 13-25 (SEER) seasonal energy efficiency ratio.
The best thing you can do for your home is to choose a reputable contractor who will ensure your interests are protected and will complete the big or small services you require. We are a reputable and accredited A+ contractors with the BBB, and are participating members of the Heating, Refrigeration and Air Conditioning Institute of Canada (HRAI.ca), and therefore subscribe to the principles of responsible equipment management.
Follow us @OnTimeGroupWPG for more of #TYsTIPS or call us today at (204) 774-1474.