Our Winnipeg Plumbing Contractors are licensed by the City of Winnipeg and are A+ BBB rated, professionally trained and certified, reputable contractors in Winnipeg.
Check out our Hot Water Tank DIY maintenance and be sure to check out the many Ty's Tips brought to you by our On Time Group president, Tyler Whitlaw.
If you experience any problems with your Hot Water Tank it is best to let the professionals help resolve those issues. A properly functioning Water Heater can save you money and reduce the risk of possible flooding. Call us today if your Hot Water Tank is leaking.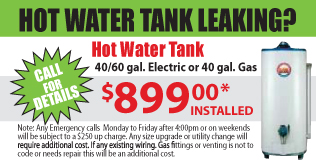 If you are in the market for a new Hot Water Tank, we offer a wide variety of options ranging from condensing tankless to the geothermal to the electrical tanks, just call us to setup your free quote and we can help inform you of all your options. Here are some recommendations from Manitoba Hydro - Power Smart to help you plan ahead before your Water Heater goes.
Our Plumbing contractors have also compiled some quick and easy water saving tips to help Winnipeg homeowners save money, reduce maintenance calls, and reduce your energy consumption.
Insulate the first metre and a half of your water pipes going in and out of your Hot Water Tank or Water Heater to reduce heat loss.
Leaky faucets and toilets can waste up to thousands of litres of water every month. For your faucets turn them off and replace the washers. For your toilet pour food colouring into the back of the tank. If it seeps into the toilet bowl you have a leak.
Never flush kleenex down the toilet.
Wash your clothes in cold water and with full capacity loads.
Dishwasher cycles will use the same amount of water so wash full loads only
Thaw food naturally and avoid thawing under running water
Installing drain water heat recovery system to reduce your energy consumption
Call us at (204) 774-1474 to connect with us for all your plumbing repairs, installations, and maintenance services throughout Winnipeg.