We have arrived online!
Whether you need residential or commercial - Electrical, Plumbing or Heating and Cooling work done, our A+ BBB rated, reputable and certified contractors are proud to serve Winnipeg.
We understand how valuable your time is so we provide you with the promise of punctuality. We strive to provide our clients with smaller time windows for appointments so that you are able to plan your day accordingly.
Tune-in to On Time Group's president, Tyler Whitlaw's Ty Know's A Guy weekly radio show on CJOB 680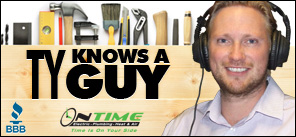 Follow us on Facebook and Twitter for Ty's Tips for maintenance around your Winnipeg home.