How to Plan Your Home Renovations.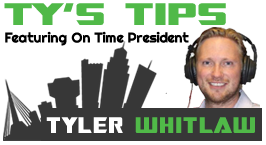 As the first day of summer quickly approaches we as Winnipeg home owners begin to schedule and budget for our Winnipeg home renovation projects. Amidst all the excitement of being able to plan out a kitchen or basement upgrade, sometime we are just not sure where to begin.
We know the latest trends from industry leaders and about the government rebates and can help complete the upgrades or full renovations within a reasonable budget.
Follow On Time Group President Tyler Whitlaw on his Ty's Tips page with video demonstrations about easy DIY tricks of the trade. After you have watched the videos check out Ty's weekly radio show on CJOB - Ty Knows A Guy where he discusses hot industry topics with industry leaders and business owners from around Winnipeg and Manitoba.
The best thing you can do for your Winnipeg home is to choose a reputable contractor who will ensure your interests are protected and will complete the big or small services you require. We are a reputable and accredited A+ contractors with the BBB, and are participating members of the Heating, Refrigeration and Air Conditioning Institute of Canada (HRAI.ca), and therefore subscribe to the principles of responsible equipment management.
Follow us @OnTimeGroupWPG for more of #TYsTIPS or call us today at (204) 774-1474.