At On Time, we're proud of the work that we do for homes throughout Winnipeg. As A+ BBB rated contractors in electrical, plumbing, and HVAC control systems, we have created a name for ourselves that stands out in Winnipeg's home services industry.
As a sample testament to our work, Accurate Leasing wanted to share their personal experience of the work we recently did for their commercial location.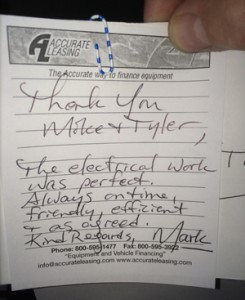 One area we don't often talk about in this space is our work in Winnipeg's commercial sector, but just as we do for our residential clients, we provide expert service for our clients working in offices, retail and other outlets throughout our city. Available 24 hours a day, 7 days a week, we will respect your property like it was our own.
To learn more about what On Time Group can do for your company's building, please contact us online today or call us, 24 hours a day, 7 days a week, at (204) 774-1474.