ALWAYS BE READY WITH A NEW
ON TIME® GAS FURNACE.
Home Furnace For $2899 Installed!
Plus Get 10 Year
High-efficiency gas furnaces are ruggedly engineered for superior efficiency.
Enjoy quiet and consistent comfort.
Winnipeg Commercial HVAC & Ventilation Services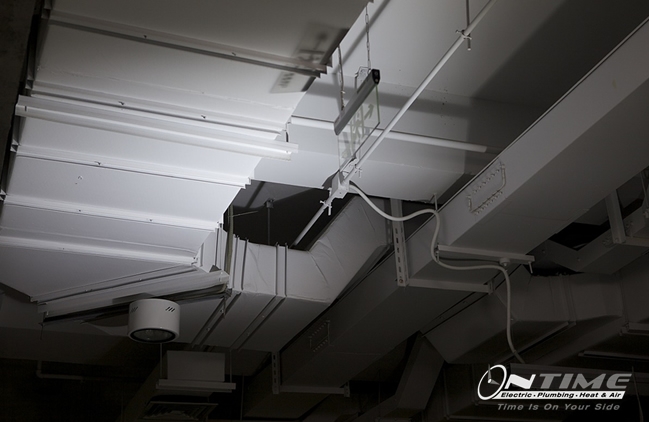 Are you experiencing issues with your heating, ventilation, and/or air conditioning (HVAC) equipment?
On Time Group Heating and Cooling are A+ BBB rated, professionally trained and certified, and a reputable HVAC Contractors available for 24/7 emergency and same day services for all your commercial HVAC repairs, installations, and maintenance services throughout Winnipeg.
A properly functioning HVAC system is designed to provide your office building with both good air quality and desired building temperatures that comfort occupants throughout the year.
Some common problems and tell-tale signs of poorly operational HVAC systems would be the comfort of your occupants.
The good air quality will help sustain occupant productivity, health, and comfort, and if the quality of air suffers then your occupant's morale and productivity suffer.
There are studies that have proven a direct correlation to CO2 Levels and short-term sick leave in the office workforce because the filtration of fresh air is compromised.
If you are experiencing poor air quality or fluctuations of building temperatures then we strongly encourage you to call the professionals.
Ty's Tips
Who installs the equipment is far more important than the brand, the product, or the price. Approximately 90% of all installs have serious defects (oversizing, pressure balancing) that affect the longevity of the system.
Did you know the proper size of equipment is critical to the efficiency of your entire system and the distribution of the hot and or cold air throughout your commercial Winnipeg buildings?
Don't take any chances with your HVAC system and regularly schedule annual maintenance. We will provide you with the information you need to know about what is the cause of the problem and recommend what must be taken care of now and what can wait. Prevent possible emergency service calls and connect with the professionals today.
We understand how valuable your time is so we provide you with smaller time appointment windows accompanied by the promise of punctuality. Available for 24/7 emergency and same day services our experienced and reputable Heating and Cooling contractors will provide you with quality work while respecting your property like it was their very own.
Call us for a free quote at (204) 774-1474 or complete the form below to connect for all your commercial HVAC repairs, installations, and maintenance services across Winnipeg.