Residential & Commercial
Professional Electricians
Manitoba leader in Residential & Commercial Electrical Services
On Time Group Electricians are A+ BBB rated, professionally trained and certified, reputable contractors available for 24/7 emergency and same day services
Call us for a free quote at (204)774-1474
Knob Tube Wiring
Our specialty is residential services for older homes, including knob and tube and aluminum wiring replacement, upgrades to electrical service panels.
Do you need knob and tube wiring removed?
Our contractors will safely and neatly replace your Knob and Tube Wiring System with a Minimal Damage approach as they run the new wiring throughout your home. Please read our blog to learn more about our minimal damage approach.
What exactly is Knob and Tube Wiring?
This is an underground wiring system that uses knob insulators to dissipate heat and that runs wires through unimpeded areas. The tubes protect the wires running through the studs and joints. This system provides a greater chance of shock or causes damage to your tv or appliances because it doesn't carry the same electrical capacity that modern homes require. The lack of grounding wires and switches turn off the circuit but not the current.
Why should I remove the Knob and Tube Wiring?
With new codes prohibiting the placement of insulation in contact with this type of wiring, you could actually start your house on fire. Most Winnipeg insurance companies will give you 30 days to completely removed the wiring system before providing coverage because of above average risk attached to insurable products.
Did You Know that it is extremely common to find newer wiring and renovations have been added to knob and tube by amateurs, resulting in dangerous conditions and owner beware circumstances.
How do I know if I have Knob and Tube Wiring in my Winnipeg home?
Based on the age of your home. Knob and Tube Wiring was commonly used in homes built before 1948.
Watch Tyler in the video below for more information.
We understand how valuable your time is so we provide you with smaller time appointment windows accompanied with the promise of punctuality. Available for 24/7 emergency and same day services our experienced and reputable contractors will provide you with quality work while respecting your property like it was their very own.
Call us for a free quote at (204) 774-1474 or complete the form below to connect with us for all your electrical upgrades, repairs, and maintenance services throughout Winnipeg.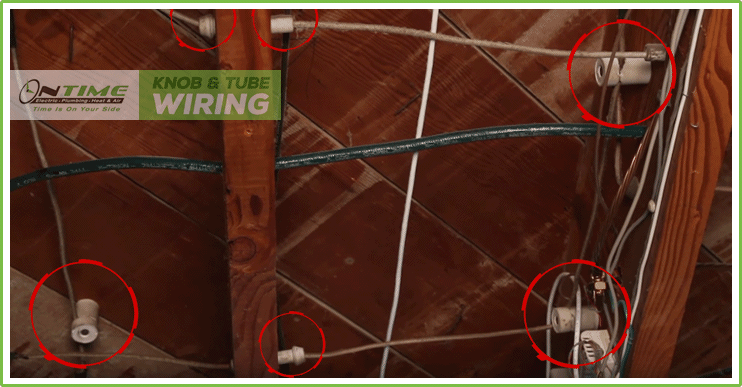 DO YOU HAVE KNOB & TUBE IN YOUR HOUSE?
On Time Group Electriciaans are A+BBB RATED
Professionally trained and certified, reputable contractors
available for 24/7 emergency and same day services for all your commercial and residential electrical upgrades, repairs, and maintenance services throughout Winnipeg.
Call us for a free quote at (204)774-1471