BE SUMMER READY WITH A NEW
ON TIME® AIR CONDITIONING UNIT.
Home Air Conditioning For $2899 Installed!

Plus Get 10 Year
High-efficiency Air Conditioning Units are ruggedly engineered for superior efficiency.
Enjoy quiet and consistent comfort.
Air Conditioning Sales & Services
OnTime Group is a true Air Conditioning sales and service company serving Winnipeg and surroundings.
Trained and certified....
The best thing you can do for your Winnipeg home is to choose a reputable contractor who will ensure your interests are protected and will complete the big and small services that you require. We are a reputable Winnipeg contractor and therefore must subscribe to the principles of responsible equipment management.
OnTime Group is a true Air Conditioning sales and service company serving Winnipeg and surroundings. Trained and certified. OnTime Group is also a participating member of the Heating, Refrigeration and Air Conditioning Institute of Canada HRAI.ca.

OnTime Group Air Conditioning sales and services are available 24/7 for any emergency situation. Contact us for all your heating and cooling needs.
---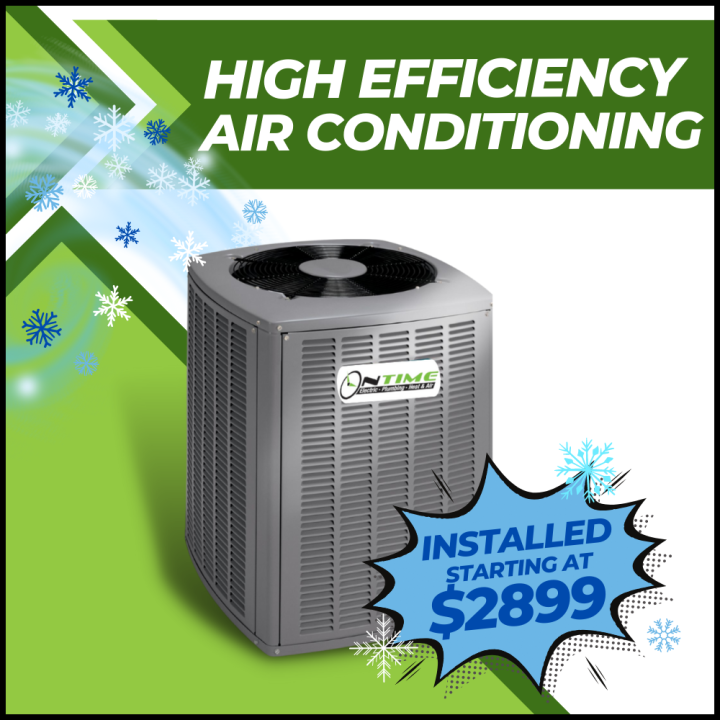 General Services
With experienced and well-trained technicians and engineers equipped with special tools, we provide a full range of services to residential, commercial, and industrial products.
Technical Support & Troubleshooting
Contact our high-skilled technicians who are always ready for any technical inquiries related to any Air Conditioning brand products. OnTime Group High-skilled technical staff are ready to help you solve problems.
How to use
Contact us if you have any questions about how to operate Daikin products correctly and effectively will be consulted remotely or directly on-site.
Inspection, Repair and Replacement
Inspecting and assessing operations of air conditioning systems.
For VRV system, service checker equipment is used to record system operation data. Based on that, Daikin technicians analyze and assess operational status of the system to find an effective method to operate, maintain, and repair the system.
Repair service is inclusive of inspection, troubleshooting, and repairs for Daikin products.
Parts/accessories replacement and related services.
System Settings
Providing services to the Daikin central control system such as intelligent Touch Manager, intelligent Touch Controller, BacNet ®, etc.
Conduct setting for A/C central control system
Provide operation manuals and user guide
Other services such as maintenance, troubleshooting, and more
Air Conditioning Maintenance, Repair & Service.

We service all brands of AC system.
Daikin Air conditioning
Goodman Heating and Air Conditioning
Carrier Air Conditioning and Heating
Mitsubishi Electric Ductless Split Heating and Air Conditioning
Bryant Heating and Air Conditioning
Amana Air Conditioning and Heating
Goodman Air Conditioning and Heating
Honeywell Heating and Air Conditioning
York Heating and Air Conditioning
Trane Heating and Air Conditioning
Rheem Heating and Air Conditioning
Lennox Air Conditioning and Heating
and many more.
Seasonal Air Conditioning Tune Up
If you have never scheduled an annual or seasonal tune-up of your Air Conditioner system it might be time to call the professionals at On Time Group.
An annual spring tune-up for your Air Conditioning system might just be the answer to keeping your Winnipeg home cool this summer.
Spring 2023: Air Conditioning Tune-Up Coupon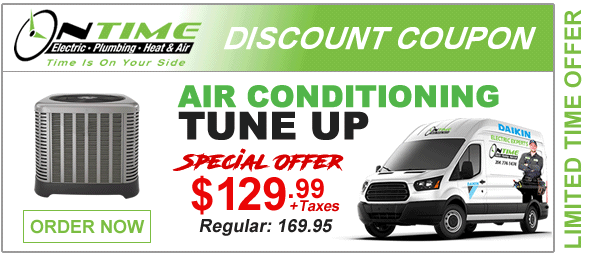 For our current A/C tune-up special and for more information about maintaining your Air Conditioning Systems.
Boiler Winnipeg - On Time Group
Did you know that Air Conditioning is possible even with a Boiler Heating System? We can install Ductless Split Systems.

For more information about repairing Boiler Heating Systems.
Always available for 24/7 emergency services.
On Time Group Air Conditioning professionals are A+ BBB rated, trained and certified, participating members of the Heating, Refrigeration and Air Conditioning Institute of Canada HRAI.ca