ALWAYS BE READY WITH A NEW
ON TIME® GAS FURNACE.
Home Furnace For $2899 Installed!
Plus Get 10 Year
High-efficiency gas furnaces are ruggedly engineered for superior efficiency.
Enjoy quiet and consistent comfort.
Winnipeg Boiler Repairs With On Time Group
Existing boiler system on the fritz?
Whatever your boiler needs are, On Time Group Heating and Cooling contractors are reputable A+ BBB rated, professionally trained and certified contractors available for 24/7 emergency and same day services for all your residential boiler repairs, installations, and maintenance services across Winnipeg.
Winnipeg homes will have a central heating system consisting of a heating source, a distribution source, and a control source. If your boiler is on the fritz then one of these three components will most likely be the problem.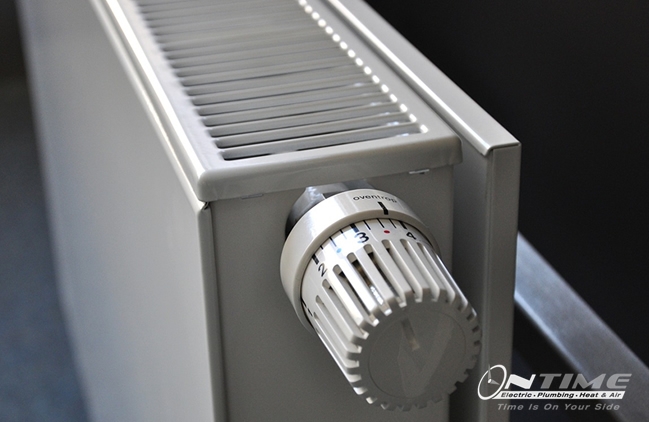 Central Heating System Functionality
The Heat Source - Most Winnipeg homes are heated with either a furnace or a boiler (water or steam). Also available are heat pumps, active solar heating, or electrical heating sources.

The Distribution Source - The boiler will heat your home using water and/or steam and distribute through pipes, or baseboard radiators, or radiant floor systems. Steam boilers will operate at a higher temperature but are less efficient.

The Control Source - The thermostat to control the amount of heat you want distributed throughout the home.
Here are some things you can safely check yourself if you are experiencing issues with your boiler.
Check the installation date and age of the boiler as it has an average life span of 15-30 years.
Ensure the pipes didn't freeze. It is highly encouraged to keep your boiler running at the recommended minimum temperature throughout the fall and winter seasons.
Check the safety valve, the pressure level gauge, and the water level gauge. These depend on which boiler you have.
Most importantly, you need to schedule annual maintenance of your boiler to ensure it's operating efficiently, and when you need it to. Significant maintenance to a boiler heating system should be done by certified professionals and annual services should become routine. The annual service should include checking the controls, the gauges, the chimney and flues for blockages or leaks, and inspecting and adjusting the burner. If you have steam heating then the air valves on the radiators should be checked and adjusted to regulate the heat.
Ty's Tips
Steam heating provides less evenly distributed heat. It presents a safety risk in comparison to alternative home heating systems. It is not energy efficient, and it needs regular maintenance otherwise it will not even come close to the average life span of a boiler heating system.
If you have a Steam system that is operating poorly, or on the fritz, than it's best to have it professionally inspected. You should be prepared to consider investing in a forced air furnace instead. It's the smart investment, and well worth it over the long-run. You will enjoy the energy efficient savings and the maintenance free operation of a forced air furnace.

Did you know that if you have a boiler heating system that it is possible to have central air conditioning?
We understand how valuable your time is so we provide you with smaller time appointment windows and the promise of punctuality. Available for 24/7 emergency services our experienced and reputable Heating and Cooling contractors will provide you with quality work while respecting your property like it was their very own.
Call us for a free quote at (204) 774-1474 or complete the form below to connect for Boiler repairs, installations, and maintenance services across Winnipeg.