Residential & Commercial
Professional Air Quality Technicians
At On Time we do Mold Inspections and testing utilizing advanced equipment and testing methods
On Time Group Commercial and Residential air quality technicians are A+ BBB rated, professionally trained and certified, reputable contractors available for 24/7 emergency and same day services.
Call us for a free quote at (204)774-1474
Need your air ducts cleaned?
Air Quality, Duct Cleaning services. Keep your air ducts free from mould, bacteria and allergens with a professional duct cleaning.
If you need duct cleaning in Winnipeg or simply want to speak with a ventilation expert about the air quality in your home, contact
Duct Cleaning Special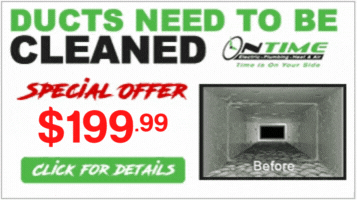 Whatever your Air Quality concerns are, On Time Group Duct Cleaning contractors are A+ BBB rated, professionally trained and certified, reputable contractors available for same day services for all your Air Quality services throughout Winnipeg.
A professional air duct cleaning can help purify the air in your home. Our team of professionals won't just clean your ducts but we will diagnose the system, check for leaks, and check for joints that are not aligned properly.
Did you know that cleaning your vents and ducts will have many positive health benefits to the health of your family?
It will lengthen the life of your furnace or HVAC unit
Removes bacteria that are caught in the air ducts and contributes to allergies, sinus problems, and other health issues.

We understand how valuable your time is so we provide you with smaller time appointment windows accompanied with the promise of punctuality.
Available for 24/7 emergency services our experienced and reputable contractors will provide you with quality work while respecting your property like it was their very own.


Improve the air quality by having your ducts cleaned in your home.
This will ensure your furnace and air conditioner operate at maximum efficiency.
Dirty ducts can lead to clogged furnace filters that could result in a furnace breakdown.
Home duct cleaning is recommended every 3 to 5 years depending on usage.
Rule of thumb: Get your ducts cleaned if:
Have you recently moved into a new home?
Have you recently completed home renovations?
Do you have family members with allergies or asthma?
Do you have pets?

Get the full picture with our remote camera inspection.