Residential & Commercial
Professional Air Quality Technicians
At On Time we do Mold Inspections and testing utilizing advanced equipment and testing methods
On Time Group Commercial and Residential air quality technicians are A+ BBB rated, professionally trained and certified, reputable contractors available for 24/7 emergency and same day services.
Call us for a free quote at (204)774-1474
Mould Inspection & Removal Services With On Time Group
Do you detect mould in your house?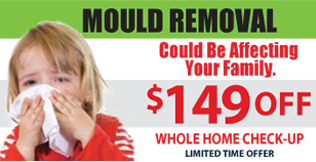 Whatever your Air Quality concerns are, On Time Group Air Quality contractors are A+ BBB rated, professionally trained and certified, reputable contractors, available for same day services for all your mould inspections and removal services throughout Winnipeg.
Call us for a professional Mould Inspection and if we discover traces of mould within your Winnipeg home then we will provide an estimate for the Mould Removal as part of our complete service offering.
The visual indicators of mould are unfortunately just the start of a much bigger problem. What lays behind the wall are more severe to your families health and well-being and we need to have that removed immediately. Our inspection will determine the severity of your mould conditions and upon inspection, we can recommend the plan of action and budget expectations.
Mould can be found in almost any environment and on any substance. All moulds can potentially cause significant health problems, the most common are allergens that trigger allergic reactions or possibly even asthma. Mould relies on moisture in order to form, and the spread of mould is through tiny spores released into the atmosphere which attach themselves to the organic material. Listen to the Ty Knows A Guy episode to learn how to prevent mould from forming in your Winnipeg home.
Ty's Tip - Mould Remediation with owner of Home Safe Home, Jim Corps
We understand how valuable your time is so we provide you with smaller time appointment windows accompanied with the promise of punctuality. Available for 24/7 emergency services our experienced and reputable contractors will provide you with quality work while respecting your property like it was their very own.
Call us today at (204) 774-1474 or complete the form below to contact us for all your Mould Inspections and Mould Removal services across Winnipeg.