Plumbing Services
A Wide Variety of
Plumbing Services for you
Manitoba leader in Plumbing Repairs, Renovations, and Maintenance Services
On Time Group Plumbers are A+ BBB rated, professionally trained and certified, reputable contractors available for 24/7 emergency and same day services
Call us for a free quote at (204)774-1474
Winnipeg Drain Cleaning Services
Do you have a clogged drain and need a plumber?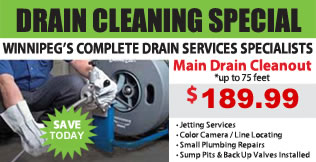 Whatever your Plumbing needs are, On Time Group Plumbers are A+ BBB rated, professionally trained and certified, reputable contractors, available for 24/7 emergency and same day services for all your commercial and residential plumbing services throughout Winnipeg.
We understand how valuable your time is so we provide you with smaller appointment windows accompanied with the promise of punctuality. Available for 24/7 emergency and same day plumbing services call us at (204) 774-1474.