Plumbing Services
A Wide Variety of
Plumbing Services for you
Manitoba leader in Plumbing Repairs, Renovations, and Maintenance Services
On Time Group Plumbers are A+ BBB rated, professionally trained and certified, reputable contractors available for 24/7 emergency and same day services
Call us for a free quote at (204)774-1474
Winnipeg Toilet Installation & Replacement Services
On Time Group Winnipeg - toilet replacement coupon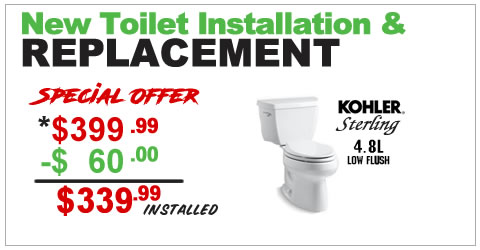 Plumbing problems and you need a new toilet?
We have variety of makes and models that fit your budget and your needs, including efficient options such as low-flow or dual flush. Call us today for more details about our current toilet specials.
Whatever your plumbing needs are, the On Time Group Plumbing Contractors and Building Contractors are licensed by the City of Winnipeg. We are A+ BBB rated, professionally trained and certified, reputable Winnipeg plumbing contractors available for 24/7 emergency and same day services for all your commercial and residential toilet replacements, repairs, and maintenance services throughout Winnipeg.
Are you replacing a toilet in your basement bathroom? Did you know that we do basement renovations?
When you hire On Time Group to renovate your basement you will receive a FREE bathroom as part of our standard basement renovation package. Check out the complete details of our Basement Renovation Services, and this is our bathroom renovation is a standard package of Kohler brand products that consists of predetermined accessories, toilet, and shower module.
We understand how valuable your time is so we provide you with smaller appointment windows accompanied with the promise of punctuality. Available for 24/7 emergency and same day services our licensed and reputable Winnipeg Plumbing Contractors will provide you with quality work while respecting your property like it was their very own.
Call us for a free estimate at (204) 774-1474 or complete the form below to connect with us for all your toilet installations, replacements, and maintenance services throughout Winnipeg.